Henri Willig is a cheesemaker in Friesland, The Netherlands. Next to the Henri Willig brand the company owns the 100% organic brand Hooidammer which is mainly sold via organic retailers in the Netherlands and Germany.
Food By Design was asked to develop a more contemporary and purposeful positioning for the brand. Therefore we embarked on a design driven positioning journey. We talked to the founders, the current owners, we visited farmers and created a revived brand story in words and images. The new Hooidammer brand goes beyond organic. It is about a dedication to a more biodiverse, vivid meadow that will result in a rich, layered cheese flavour. The positioning can be summarized as; Full of life, full of flavour.
In line with his new positioning we teamed up with Joost Identities to create a new logo and packaging design. We made various illustrations that visualize the rich, buzzing life around the organic farms of Hooidammer.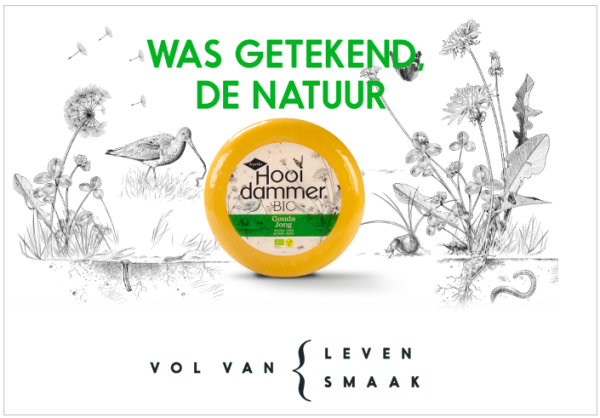 Goal
Reposition the organic cheese brand Hooidammer
Client