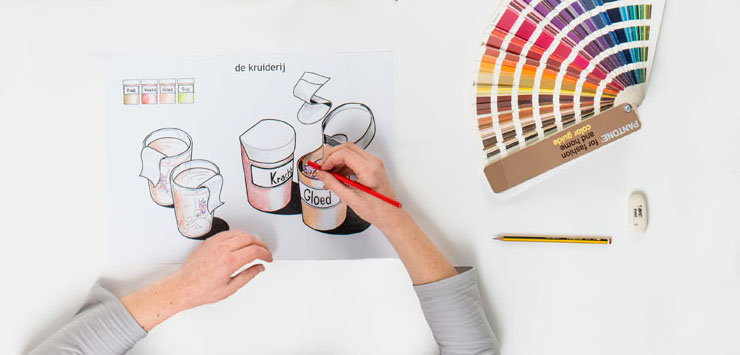 Designing is giving meaning to material. And in food design, you can eat or drink part of the material. Shape, taste, texture, smell, sound and colour are the six sensory modalities designers can work with. Giving meaning to the edible and drinkable. In a way that it tells a story or evokes an experience for the user.
The verb designing
Design is next to an end result, above all a process of hard, structured and future-oriented work to come up with new and creative solutions. And that way of working can also be applied to food.
In addition to marketing and product development, that is often done by chefs and food technologists, food design can provide a different additional vision, an extraordinary approach, extra inspiration and new ways to find solutions. The typical design skills such as sketching and prototyping stand out, but there are many more aspects in which the additional and added value emerges. Above all, food design is interdisciplinary, optimistic and future-oriented.
Non-designers
Food design is not exclusively predestined for designers. Non-designers can also take advantage of this and make maximum use of their creativity and inventiveness. Design thinking has been embraced by many business leaders around the world and is taught at leading universities. In food, this is no different. Food design thinking also gives non-designers the power to look beyond their existing thinking frameworks and to come up with truly new solutions that they would not have thought possible in the first place.
How to innovate in food?
Many food professionals see themselves faced with the task of bringing innovation and renewal. Most companies have it stated in their mission. Many of them dream of being the disruptor within their market or organization. But how do you do that? Where do you get the inspiration, the ideas, how do you work them out in a structured way and get others involved? Both the end result and the journey towards it are crucial a good design trajectory.
Want to know more?
Would you like to know more whether food design can add something to your organization? Don't hesitate and contact Marielle or Marleen. They will clearly show you the steps in the design-driven innovation process and how you can maximize the change of ground-breaking food products, concepts and perhaps even entire food systems. Read more about food innovation & design thinking here.