Simon Lévelt is famous for its premium coffee and tea, mainly sold via their specialty stores and online webshop. But as today's consumer expect a 360 degrees availability, the brand's ambition was to be available in the supermarket too.
Food By Design was asked to facilitate an innovation process and translate the boutique brand into a premium and organic supermarket retail concept for the Dutch retailer Albert Heijn. The outcome of our inspirational Food Design Thinking journey was the concept 'gemstones'. Like those precious stones, coffee is a treasure of the earth. The wide variety of colours is also an intuitive flavour language and links to geographical origin.
As Simon Lévelt aims to be as sustainable as possible, all coffee is organic and much attention was given to the packaging. The bags are aluminium free and therefore 100% recyclable. The aluminium coffee cups can be returned at Simon Lévelt's boutiques for recycling and are 'climate neutral' certified. Read more on www.climateneutralcertification.com
Simon Lévelt is a brand with more than 200 years of expertise and craftmanship. This story is told at the back by sharing many facts. There is a quote on the flavour profiles of their own in-home Q-grader, some words about the slow roasting process in Haarlem and an explanation about a SCA score of 80+.
Now coffee lovers can can enjoy the precious flavours of this new coffee collection. Easy to buy at a supermarket around the corner.
Graphic design by Lars Wierenga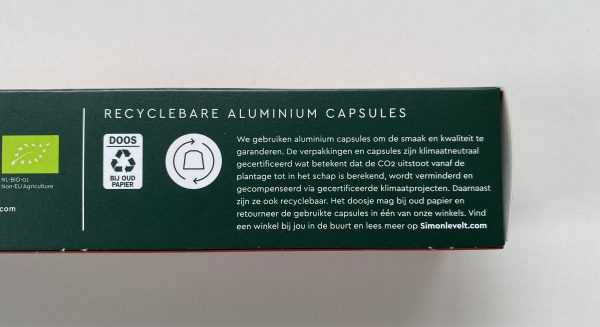 Goal
Develop a premium retail concept 
Client
Simon Lévelt