Of course, a product or dish should be tasty. But today it really takes more than that to be successful in the highly competitive food market. More and more, food and drink has to stand for something and tell a story. Developing a good food concept brings the product or dish to the level of a special experience. One that is worth repeating, that stimulates your senses and that forms a memory. To achieve this, developing a concept is a tried and tested strategy. But what is a food concept and how do you develop it?
We love to develop a food concept
Food by Design has developed many food concepts in the past. For example, we were allowed to develop the AH Verspakket. If you add the copies of Lidl, Jumbo and Plus, we can now say that it has been the most successful food innovation of the past five years.
What is a concept?
But what exactly is a concept? The word is increasingly used today. An entrepreneur does not just say deliver a product, but rather a concept. That sounds bigger, more interesting and more complete. Even a bit mysterious. A contemporary restaurant is not just an eatery but increasingly based on a concept. A philosophy behind the food, the experience and the service. A concept is more than just a product or bare service. It is a story or a world around it that has been carefully thought out and shaped. A concept goes further than an idea, they are the best ideas that are worth thinking about better after a knockout race.
The phase in a development trajectory
Professional innovators and designers often use the word 'concept' to indicate the stage of development they are in. In the concept phase we have passed the idea phase. Here the best ideas are selected and further developed into a well-coherent whole. In the industrial design course at the TUDelft, students are always required to go through this phase. After having come up with many ideas in the idea phase, it is taught to always develop the best three ideas a step further and more concretely into concepts after selection.
Of course there are also a lot of jokes about concepts, especially when the user tries to make it seem more interesting than his idea actually is. A concept is also a wonderful word if you want to keep it vague when you simply don't know how to make something concrete. In addition to this 'abuse' of the word, it is an essential step in which much of the 'magic' of innovation takes place.
The essence of food design & innovation
Perhaps the essence of food design and food design thinking occurs in the concept phase. Nowadays, with the internet at their fingertips, everyone can spot trends and come up with quick ideas, but to then make choices, determine an essence and bring it to life in a powerful and unique way that is reserved for a much smaller group.
Concept development can take place at product, service, assortment and/ or brand level. They often go hand in hand. In fact, that's the best. The line cannot be drawn exactly. They are areas that merge into each other, where the emphasis may vary from project to project.
Basic vision
Good concepting starts with a basic vision. A vision of a problem, a belief, a possible solution, characteristic behavior that the future concept can respond to in a relevant way. That can be very broad. From a view that it is not fairly divided in the chocolate world (Tony Chocolonely), that for non-alcohol drinkers there is no good alternative to wine at a dinner, to an observation that many consumers are unable to get their potatoes crispy in the oven. Large or small, world-improving or for pleasure or enjoyment, from our own experience or emerging from consumer research: there are countless starting points. In market research and marketing this is often referred to as "consumer insights". Smaller entrepreneurs and designers often think from a personal experience, their own observations or beliefs. Both are an excellent starting point for developing a food concept.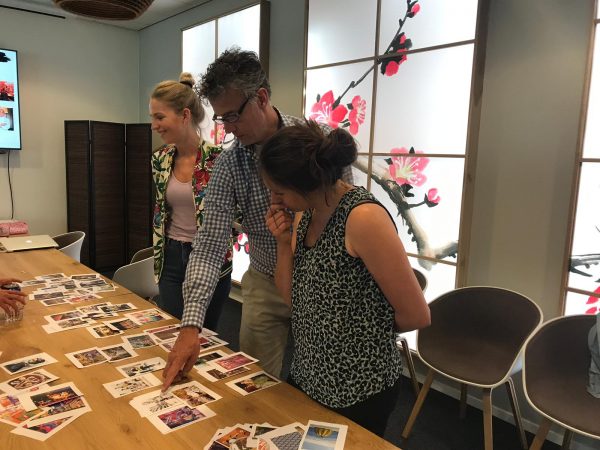 Rich inspiration and idea phase
In order to formulate a strong initial vision, it is essential to go through a rich inspiration and idea phase as we always plan ahead in our innovation processes. This is where these visions are born like rough diamonds. In the concept phase we get started with the grinding of these gemstones. We will formulate the vision precisely, identify relevance and then determine the essence that the concept is all about. That is the core of developing a food concept. The essence tells us briefly and powerfully what the right to exist of the product, service, concept or brand is. A good essence can be summed up in one sentence. If someone needs half an hour to explain it, you can say with certainty that the concept will never become powerful and recognizable.
Concept canvas
During concept workshops we work with the concept canvas developed by us, which clearly captures a concept to be created. The concept essence takes a central place in this. As mentioned, this must be formulated briefly and to the point. When the essence is clear, it is then relatively easy to make choices about appearances. Appearances are the concrete manifestations such as flavors, the shape, presentation, packaging, the name, etc.
As with many other skills, it helps to have experience. To learn through trial and error what works and what doesn't. Of course you can go a long way with these tips above, but if you now notice that it could use a little more refinement or that you do not know exactly how to start this with a group of colleagues, do not hesitate to call us. We are happy to think along with you about what your concept still needs. From the start or as a finishing touch.
Contact Marielle or Marleen with tour food concerting question.
Image source: unsplash.com